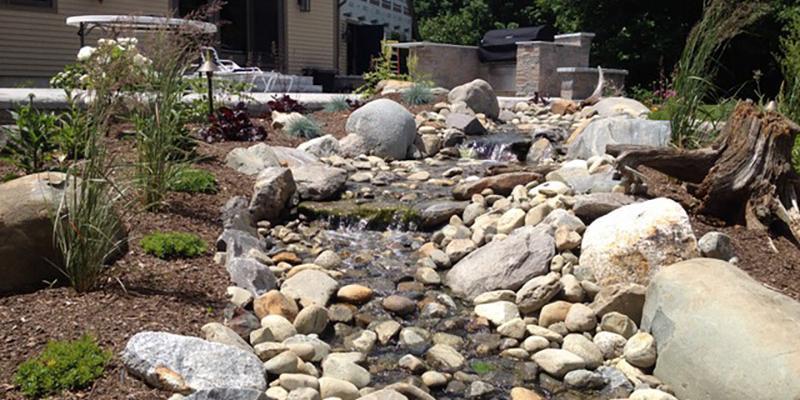 As humans, we are drawn to beauty and, in an effort to improve the visual aesthetics of our homes, landscapes, and community, we dream up imaginative design ideas. Pairing the innate human quality of formulating ideas with a booming DIY market allows non-professional enthusiasts to embrace their inner artist and develop conceptual plans on their own. During difficult times in our economy, the DIY market is intriguing for anyone who has big plans to improve spaces around them within a budget.
So, you may ask—why is it important to hire a landscape design company?
Landscaping is the manipulation of just one part of our larger ecosystem. In order to succeed, one has to be proficient in analyzing a plot of land with horticultural, environmental, and artistic perspectives.
If you're dreaming up big ideas for a landscaping project, you might want to think about hiring a landscaping company to help you along the way. Here are 5 reasons you should consider:
1. Landscapers Take the Ecosystem into Consideration
Your plot of land is not separate from our entire ecosystem. A landscape designer understands how the ecosystem dictates the way a landscape can be manipulated, thus viewing your landscape as a small system within a larger one. Throughout the development of your landscape design, the landscaper will formulate a solution that follows strict natural guidelines and integrates a sustainable outdoor space within the established ecosystem.
Not all formulated ideas are feasible within the boundaries of construction. Following a thorough site analysis, a landscape designer will develop a conceptual solution, addressing environmental, horticultural, and artistic factors, while integrating your needs and desires. Within a landscape design company, individuals with design expertise pair up with individuals who are proficient in construction and installation. A multidisciplinary, site-specific design carefully developed by a landscape design company will not only be feasible in a construction sense, but it will also become an environmentally sustainable outdoor space.
2. Both Landscapers and Homeowners will Benefit
A symbiotic relationship means that both parties within a relationship mutually benefit from that relationship. A homeowner with large design aspirations would benefit from a landscape design professional who has the knowledge and expertise to bring imaginative ideas to life, and vice versa. A landscape designer will have an opportunity to exercise innovative creativeness, and a homeowner will reap the benefits of a better overall outcome with minimized pitfalls.
3. Your Home Value Will Increase
Hiring a professional will pay off—literally. Researchers studied the effects of design sophistication on home value and found that investing in landscaping will increase the value of your home. In fact, when landscapers optimize the sustainability and visual aesthetics of a landscape, that landscape can optimize the value of your home over time, contrary to other completed home improvements.
4. Landscapers Have Access to the Best Products and Equipment
Complexities of landscape design and development involve the following: proficiency within multiple fields of study; access to proper, locally available materials and equipment; knowledge of up-to-date landscaping and gardening trends; and direct connection to other industry-specific professionals.
Hiring a one-stop-shop landscape design company with a network of resources will save you time, money, and stress. With resources right at your fingertips, your overall landscape design and development experience will be one of seamless joy.
5. You'll Have Professional Project Management from Initial Consultation through Construction.
Without proper planning and development, a landscaping project that should take a week to complete could instead take months. Landscaping professionals utilize their expansive expertise to guide you seamlessly through your project, ensuring the schedule stays on track and the successful development of a conceptual design is achieved. Selection decisions, for instance, can make or break a schedule—having so many style, texture, material, and color selections can be stressful and time consuming without professional guidance. With a landscaping company, you'll benefit from design professionals who can narrow decisions and provide sound advice for quick decision-making.
Additionally, part of project management involves acceptance of the "unknown." As preparation for installation occurs, obstacles will arise, changes in design will occur, and opportunities for design improvements will present themselves. Landscaping professionals will help you capitalize on beneficial opportunities and mitigate the possibility of total disasters.
Benefit from Local Expertise
Whether you are just entertaining ideas for landscape improvement or you are ready to put development in motion, remember it's always a good idea to utilize local landscaping companies. With over a decade operating right here in Maine, Lynch Landscaping network of design and development professionals is a great place to start.