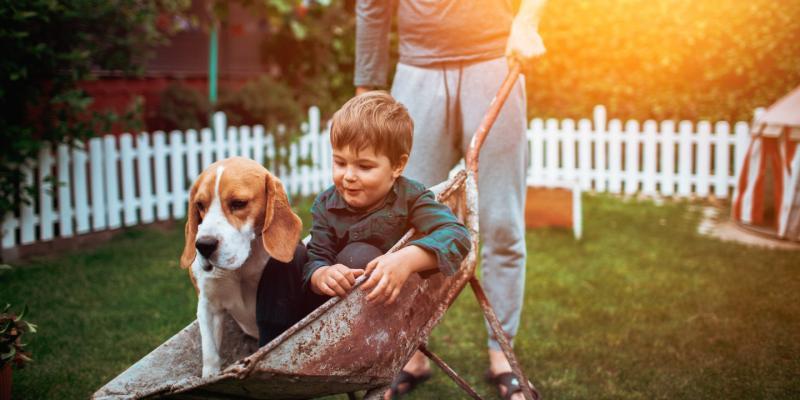 Whether you're grilling with friends or playing outside with your kids and pets, your lawn needs to look the part. Make sure your yard is somewhere you actually want to spend time this spring. Check out our lawn care tips below to get your yard looking beautiful in no time!
Rake Up Debris
Leaves are growing back, so it's time to get rid of the old ones that are still on your ground.
Raking up old leaves and sticks that were strewn about your lawn will instantly give your yard a much-needed facelift. Spring cleaning applies to your yard, too!
Remove Weeds
Don't let weeds ruin the yard you worked so hard for! The best way to control weeds is to use a pre-emergent herbicide in areas they have yet to appear and a post-emergent herbicide in the areas they have already appeared! Make sure to avoid products that label themselves as "grass killers" and you will have a lush, weed-free lawn in no time.
Mow the Grass
Get that grass trimmed ASAP! It's hard to beat the sight of a freshly mowed lawn. When you mow, make sure your grass remains at least 3 inches or taller. Otherwise, you may actually be causing more damage than good because the root could be affected!
Plant Flowers
Springtime and flowers go hand in hand. Planting flowers is the perfect way to spruce up your yard this season. It's simple but adds so much. Crocus, Daffodils, and Tulips are the 3 most common flowers for spring. These fresh blooms look amazing in both gardens and planters, so don't hold back!
Lay Mulch
Not only does mulch transform the look of your yard, but it actually has several benefits, too! Laying mulch in a flower bed can prevent weeds from popping up. Also, mulch is great for water retention causing plants to be extra hydrated. It can even control or deter common pests that wreak havoc in your lawn. Mulch is one of the best things you can do for your yard.
Add Compost
Adding compost to your yard, garden, or flower bed is a great idea for spring. Compost feeds the soil and makes it very nutrient rich. This is perfect for the season of growth! Additionally, it is great for water retention and preventing diseases common to plants.
Water the Grass
Just like we need water to thrive, so does your yard! Whether it's coming from spring showers, a hose, or irrigation system, your lawn needs to receive around 1 to 1.5 inches of water per week. If you're not receiving enough rain, watering your lawn 2 to 3 times a week will do the trick!
You will get the lawn you've always wanted if you follow these tips! It may take a little TLC, but it will feel so rewarding when you look around a see your family and friends enjoying your beautiful yard. If you're interested in purchasing mulch, compost, or other useful landscape supplies, check out our supply yard!